We recently spent a week in Branson with three of our children and spouses as well as five of our grandchildren.  I bought a styrofoam and balsa wood airplane with a propeller so I could fly it with the kids.  We had fun in the yard and it flew fairly well without great damage.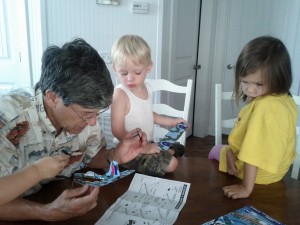 Later, I bought a similar plane without a propeller (glider version) which we intended to launch from the observation deck of the 50 ft tall lighthouse attached to the clubhouse of the complex in which we were staying.  The last day we were there, we all went to the lighthouse, leaving some of our family to observe and retrieve the plane on the ground.  We launched it several times and the flight path was basically the same every time.  Basically a spiral straight down.  Oh! Well we had fun with the kids.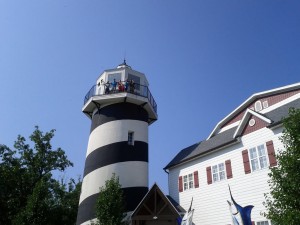 While we were preparing to depart our vacation for home, I gave the prop glider to my grandson from Tulsa and the no-prop glider to my grand daughter from Fort Scott.  I was afraid of them getting broken, so packed the prop glider back in the box it came in.  I did not have the plastic wrap the other had some in.  My grand daughter wanted hers in a box as well, so we dumped out some cookies and used the cookie box.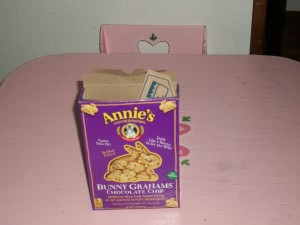 Here is my daughter's description of our grandson and the plane:
"Cademan fell asleep holding his plane box in the van on the way home and as soon as we got home he pulled it all out and begged us to put it together while we were unloading. Joel finally took him out to the golf course under Cademan's strict instructions to NOT let it go in the pond! After a while Joel then came back in and Cademan sat on his slide playing with his plane. He wanted to take his plane in the bath with him but I said it would break. So he settled for sleeping with it but this morning he woke up and has been playing with his plane ever since! I think I need to get used to having a son with 1 arm cuz that's all he can use with the plane in the other! Lol!
Anyway, just wanted to let u know how much he loves his plane!
He also told me last night that it was his and Daddy's cuz they were special!"
I am getting a lot of Papa miles out of this plane.  It is kind of like frequent flyer status.
Larry